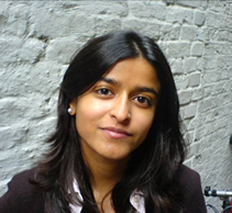 Public Lectures: Immigration, identity and multiculturalism
Held on: Wednesday 2nd April, 7-9:30pm
Speaker: Munira Mirza
How have attitudes to immigration changed historically? What does modern multiculturalism as policy and lived experience offer us today: a harmonious East End or a divisive focus on difference?
Munira Mirza writes, lectures and broadcasts on issues related to cultural policy, race and identity. Her works include 'Culture Vultures: Is UK arts policy damaging the arts?' (ed.) 2006; 'Living Apart Together: British Muslims and the Paradox of Multiculturalism', 2007; Printed Project, Issue 8, 2007 (ed). She is also a founding member of the Manifesto Club and has recently joined the London Mayoral Office as the Director of Policy, Arts, Culture and the Creative Industries.
View the video pod of this lecture below:
Listen to the audio pod of this lecture below (or right-click here to download and save the file).
This audio pod was produced by WORLDwrite's London Behind the Scenes programme. For more information about WORLDwrite's other projects please go to www.worldwrite.org.uk.