WORLDbytes crew members at the Battle of Ideas Festival
Some of the volunteers who filmed many great debates!
A terrific experience was had by all our crew at the Battle of Ideas festival at the Barbican in November. Well done to all who took part and a big thank you to the Battle of Ideas for having us as media partners. Our volunteers filmed over thirty panel debates and discussions and as soon as we can edit them, we look forward to sharing some scintillating content with you.
If free Citizen TV training interests you, we are taking applications now for January 2020. We turn no one away but spaces can fill up fast and when we are full, we're full! Click here to find out more and apply.
WORLDbytes crew members collect awards
Much deserved medals!
Three of our young Citizen TV volunteers Jay, Marley and Berekad collected their own much deserved medals from Olympian Donna Fraser  at a spectacular Jack Petchey Awards event.  Kate Abley collected a leader award for her great service to the charity. Congratulations to all!
And the winner was...
Ticket number 629!
The charity raised almost £600 from DVD sales, donations and a raffle at the Battle of Ideas Festival. And the winner was….ticket number 629. Please let us know if that is you and come and collect your fabulous hamper before the end of November.  Thank you to all who have contributed to WORLDwrite's 25th anniversary appeal so far. We have some way to go, but with your help we're determined to get there. We are entirely volunteer run at the moment, with no paid staff, as our priority is keeping our centre open. So if you can chip in please do so here. Do you need your garden clearing? An event well shot? A promotional video? House transformed? For a very generous donation we can work wonders! Just email us. Keep us posted on jobs too, as our volunteers also have bills to pay.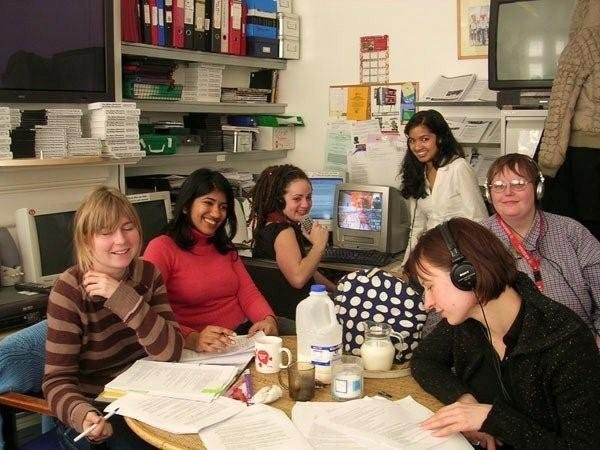 Promoting great videos and ideas
Volunteer call out
This a promotion day for WORLDbytes videos, the new WORLDwrite-WORLDbytes website and the Battle of Ideas Festival. The charity is looking for volunteers to help ensure our videos are well watched, the website is well known and this excellent festival which we are taking a large crew to, is well attended. Whether you are a social media guru or digital marketing aficianado or have never tried anything of the kind your help will be invaluable. There are two sessions at the WORLDwrite centre today from 2pm-5pm and 7pm -9.30pm. Email us to let us know if you can chip in at one of them. From targeting free listing sites to Facebook groups to writing good old press releases, there is plenty to do and we'll show you how. If you are outside London, there is plenty you can do to help online from home or college.
Date
Tuesday 15th October 2019
Time
2pm-5pm & 7pm-9.30pm
Camera training
Become a Battle of Ideas shooter
This is intensive training for new volunteers, where you will learn the basics of camerawork, lighting and sound for shooting debates at the Battle of Ideas. To attend you need to complete a simple application form available here and take part in the full training package for Battle of Ideas shooters.
THIS EVENT IS NOW FULL.
If you have volunteered in the past, completed our camera training and would like to join the Battle of Ideas crew, please email us.
Date
Saturday 19th October
Time
10am-6pm
Filming debates at the Battle of Ideas
Logistics Day
We are media-partners for the Battle of Ideas, a highly acclaimed annual festival of ideas held at the Barbican where we will be filming over 30 of the high-level debates with internationally renowned speakers. This is a key day for all volunteers, old and new, to meet and work with the full crew
attending the Battle of Ideas festival. We will consider how best to shoot debates, panels and in-conversations, the logistics, lay out, set up, equipment, crew rotas and timings. Refreshments will be provided. The day will end with a visit to the Barbican to understand the set up and lay out. The latest training package for new shooters is now full, but if you have volunteered with us previously, we'd be delighted to have you on board, please email us to take part.
Date
Sunday 20th October
Time
10am-5pm
Battle of Ideas Crew
Camera Practice
These are essential camera practice sessions for volunteers shooting at the Battle of Ideas Festival with WORLDbytes. Get to know your F stops, framing and focus in a fast paced public setting. These sessions are available to volunteers who have already completed their camera training with WORLDbytes and are joining our professional crew for the full festival weekend. Make sure you have signed up to your sessions or they may be full!
Date
Tuesday 22nd October, Wednesday 23rd October, Thursday 24th October
Time
2-5pm and 7-10pm
Equipment & stall preparation
Volunteer call out
From cleaning lenses to sorting and checking cables to stock taking to labelling bags to battery testing, there is a huge amount to do in preparation for a major weekend of shooting at the Battle of Ideas festival with a very large crew and a mountain of kit. If you can help out for a session, we'd love to have your help, just email us.
Date
Tuesday 29th October
Time
10am-1pm, 2pm to 5pm, 7pm to 10pm
Battle of Ideas Festival
See you there
In a rapidly changing world, debating ideas matters more than ever. Last year's festival, at The Barbican in London on 13 & 14 October, was a huge success and provided a unique forum to discuss the big issues of our time. WORLDwrite will be there with a large WORLDbytes crew to film many of the debates. Our volunteers will get a full pass for the weekend, local travel paid and refreshments provided. Our training package for this event is now full but former volunteers can email us to join our crew and help out over the weekend.
You can now buy tickets for this year's festival,  there are some great deals available for students and the programme looks fantastic. Make sure you visit us on our stall in the foyer. We'd be delighted to meet you there.
Date
Saturday 2nd & Sunday 3rd November
Time
9am to 8pm
Congratulations!
Achievement Award winners
Congratulations to Janith, Marianne & Anisa who were nominated and won the vote to receive Jack Petchey Foundation Youth Achievement Awards for Setember to November this year. They each get to decide how the charity spends £250 to help other young volunteer-learners.