Shoots
The making of a film about more than loos
Sign up for our free newsletter
Numerous volunteers were involved in the making of Flush it, many shooting for the first time as part of WORLDwrite's film training programmes. It is due to their effort and input that this film has finally been made. We had many long days and long weekends shooting for the film, long journeys, next to no cash and no paid shooters. Our star and inspiration for the film, Tiba now has two babies such is the time it takes to make a film with no budget while learning but not earning on the job. The limits of our gear, although it improved over time, were a constant source of exasperation and our novice crews had wind, water, cantankerous flushes and pooh to contend with, a hard task even for experienced crews with high end kit we can only dream of. Politically the shoots proved our early contention that it must be possible to meet our peers' aspirations for great bathrooms and loos to be only too true.
WORLDwrite and Chew on it productions owe special thanks to the organisations and individuals who helped to facilitate the shoots we undertook. Some of the most revealing shoots are detailed below along with additional footage we were unable to fit in the film.
Flushed with Pride
The Gladstone pottery museum in Staffordshire is home to the Flushed with Pride gallery and provided vital background material on the history of the British Loo and sanitation. Burgeoning scatological jokes aside, volunteers shot far more fascinating material here than we were able to use. Check some of it out here. It was also great to have Curator Angela Lee provide a detailed tour of the material on display in the Flushed with Pride Gallery. The exhibition reveals the problem solving, ingenuity and an outlook which gave rise to the modern amenities we take for granted in the West. For us, it put aspirations for great bathrooms and sanitation in the developing world in perspective. The earliest reference to a wash down water closet is around 1597 and a version of the flushing loo has been around since the 1770s, although as Angela explained, it wasn't Thomas Crapper's invention and crap doesn't come from his name. More than 200 years later a large percentage of populations in much of the developing world are still expected to make do with holes in the ground, hand pumps, rivers and streams. More tragic still are the campaigns which demand little more than the status quo in terms of sanitation and fresh water provision. We couldn't help but notice the similarities between early faeces collection before in door flushing loos won out and the expensive trendy composting contraption volunteers had filmed at Blondin allotments. Both involved backward toil, literally shovelling shit.
The museum address is Uttoxeter Road, Longton, Stoke on Trent, Staffordshire, ST3 1PQ and it is open to the public daily.
For more information on the Gladstone pottery museum click here, and to view the Flushed with Pride Gallery here.
Pump it up
The Crossness Pumping station was built by Sir Joseph Bazalgette as part of his great and effective plan to deal with London's sewage problem in the mid 19th Century. We learned much from our shoot at Crossness not least the extent of the Victorian's pride in their achievements. The comparison with today's low horizons and animosity towards large scale projects is salutary. Having author James Heartfield with us to provide commentary helped illuminate the changes in historical context and attitudes. On this shoot Tiba, around whom the film weaves, was clearly due to give birth rather imminently which had the crew slightly alarmed. Timing is clearly vital when key figures are pregnant mums. We resolved to pursue our investigations with her staying safely at home for the remaining shoots.
The pumping station with its magnificent interiors and great engines is now looked after by a dedicated group of volunteers who have been campaigning to raise funds for the station's restoration through their charity the Crossness Engine's trust. More details are available on their website.  There are special visitor's days during the year with guided tours of the pumping station. Prior booking is required and details are available here.
The pumping station is located at The Old Works, Crossness S.T.W. Belvedere Road Abbey Wood, London, SE2 9AQ.
Sanitary ware for all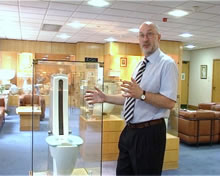 Our Twyfords factory shoot proved to be an exhilarating experience. Witnessing great numbers of newly crafted loos moving on conveyors over head, spookily humanoid robot sprayers, the kilns and workers smoothing the clay was an unexpected treat. We got so much great footage here, far more than we could fit into the film, so we thought we'd share it with you here instead.
Manager Terry Woolliscroft was something of an inspiration too; such was his knowledge of toilet manufacturing history and enthusiasm for the great sanitary leap forward provided by the flushing loo.  We instantly became fans. His infectious eagerness made such a refreshing change from the usual cynicism about growth, industrial production and all that it offers. Tiba could rest assured, if Terry had his way everyone would have fabulous loos.
Twford Bathrooms are based at Lawton Road, Alsager, Stoke-on-Trent, ST7 2DF. Twyfords' history is available here and their website can be visited here. The "all singing all dancing" concept loo of the future, the "VIP" (which Terry reveals in the film) is clearly making progress.
Terry Woolliscroft is an award-winning international public speaker and provides presentations and talks on the humble toilet and more besides. Please check out his two websites www.thetaleofthetoilet.com and www.woolliscroft.org.
On the water
Kielder water is the last great man made fresh water reservoir to be created in the UK, it was an obvious must for the film. We stayed in the wooden lodges in Leaplish waterside Park for our shoot in March 08 and thankfully they are pretty flash, warm and well equipped. Park staff were really helpful and provided a boat at a time of year not suitable for cruises. Our intrepid crew just about coped with keeping the camera on board atop choppy water while something of a boy racer sped us across the lake as though we were a Bond crew.
The reservoir with its 27 mile perimeter, surrounded by spruce is now a huge tourist attraction but this was not the intention when Kielder was constructed. It was planned in the late 1960s to satisfy an expected rise in industrial demand for water. Finally completed in 1981 it took two years to fill with water. The decline of traditional heavy industry, served to undermine the original justification for the reservoir. Today no one complains however as it attracts around quarter of a million visitors a year and ensures North East England always enjoys plentiful water supplies.  Kielder is linked to the Derwent Reservoir's distribution system by a pipeline running from below the Kielder dam so the water can be used to supplement levels when the River Derwent is low. Consequently the North East does not suffer the water conservation panics common in the South or the hose pipe bans.
We can but hope the irksome pleas to not flush are more likely to be seen as an irrational prejudice in this part of the UK.
For more information on Kielder visit their website.
The Great Debate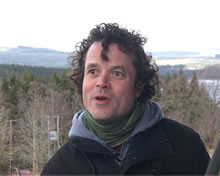 This inspiring team has long supported WORLDwrite's efforts to put the record straight on global development issues. Based in Newcastle they hold regular debates, talks and conferences and yearly, a joint affair with WORLDwrite. Chair and founding member Dr Caspar Hewitt is a water engineer and provided great insights for the film. He accompanied us to Kielder water for the shoot. We had organised the Kielder shoot for the day after a joint debate in Newcastle where panellists discussed excerpts from WORLDwrite's films Keeping Africa Small and I'm a subsistence farmer get me out of here. Oxfam's Press Officer was on the panel and in a discussion over Water Aids derisory rope pump for Ghana claimed Ghanaians we had filmed who laughed at Western NGO's demeaning scheme clearly had no idea about poverty! This provided a great spur to complete Flush it and get the truth out about aspirations in opposition to such sanctimonious and outrageous Western rubbish. It certainly encouraged us to brave bad weather and head for a cold lake side to shoot something which embodied thinking big in terms of water provision.
For more information on the Great debate visit the website.
Fresh water makers
Thames water has had bad press for a few years now, with panics about water wastage, anger over leaking pipes amidst hose pipe bans and increasing water bills. While we did not set out to wave the flag for Thames water it must be said they were not the originators of a miserly approach to fresh water provision and had some fascinating problem solving ideas in the pipeline. They deserve credit for taking on the opposition to building a desalination plant in Newham which could top up supplies for London if reservoir levels became too depleted. Here's an interesting clip we didn't have room in the film for.
Thanks are also due to many more individuals and outfits and there are many more stories to tell from making fake pooh with mars bars - filming the actual stuff was not too popular - to the boys trying to filming their own pee whilst peeing, but we hope the above will give you a taste of our filmed investigation and adventure.
Click here for Press Kit.